Winter Adventure Camp
Winter is wonderful! So new for 2018, our winter adventure camp takes place during spring break on the last week of March. We'll celebrate the return of the sun with an action-packed week of outdoor winter fun! This day camp is designed for campers to experience a variety of exciting outdoor and cultural activities in the Yellowknife area. Leaving their smart phones behind, our campers will have an unforgettable week of fresh air, adventure, and exploring the beautiful wilderness around the Yellowknife area and Great Slave Lake. While the focus of the camp is on having fun with friends in a supportive environment, instructors will incorporate winter and northern survival skills into our activities throughout the week. And we are really excited about learning opportunities for campers with local cultural outfitters that will be a highlight of this camp!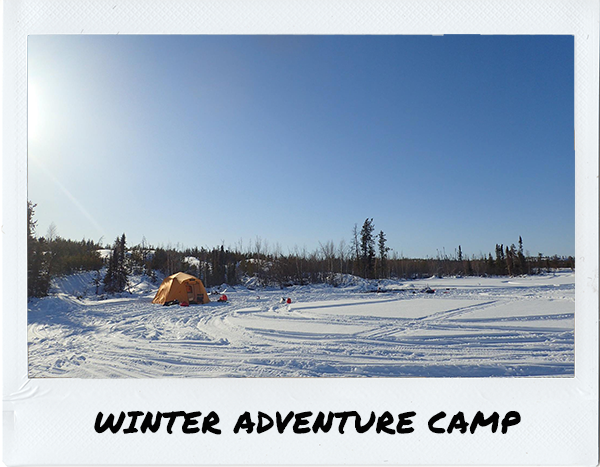 WHat to expect?
Each day will feature a totally awesome, but different activity, including:
– Quinzee and igloo-building
– Ice-fishing, including ice-fishing using nets with a cultural leader
– Snow-shoeing and hiking
– Tobogganing and outdoor winter games
– Snow Camp at the Snowking's Castle!
To give us warm place to get organized, campers will be dropped off and picked up from the PSAV room at the Multiplex, daily. We'll also have a heated outdoor tent (Arctic Oven) available in the field to keep warm during periods of extended outdoor activities.
As we take safety seriously, we reserve the right to amend the schedule and activities for periods of extreme weather. If wind chill equivalent is below -25 C during camp hours, we'll move the camp to an indoor gymnasium until it warms up, or the wind weakens.
What is Included?
Ice-fishing gear, toboggans, snow-shoes and other outdoor equipment for our fun outdoor activities.

Snacks during the day, and a lunch party on Friday

Shuttles

Fees to cultural leaders and local tour outfitters for components of the camp

Jackpine Paddle Gear

Jackpine Paddle Stickers

40+ hours of instruction and supervision

Online photos and a camp video

AN UNFORGETTABLE WINTER OUTDOOR EXPERIENCE!
Who, When and How Much?
All youth in grades 3-8. No previous outdoor experience is necessary!
PRICE: $595 + GST
DATES: March 26 – 30, 2018 (8:30am-5:00pm)