PADDLE CAMP
Our Paddle Camp will take youth to the pristine wilderness and clear waters on the rivers and lakes in the Yellowknife area.  Staff are chosen for their experience, skills and ability to make trips fun and safe. We start on day one at a local lake make sure everyone is comfortable in the boats and with our safety procedures (July 2). Then we are off for 3 nights and 4 days of self-propelled, learning on the land! (July 3 – 6). It's a great opportunity to be with a peer group in canoes, setting up camp and learning to navigate amongst islands and along lakes. We focus on beginning leadership skills, and encourage everyone to support each other in this exciting wilderness adventure.
Campers will learn the fundamental skills of canoeing including carving the canoe on an edge, teamwork, navigation, paddling strokes, and rescues. There will be lots of time for play, and canoes make the best toys! We'll have games around camp, go exploring and test our luck fishing!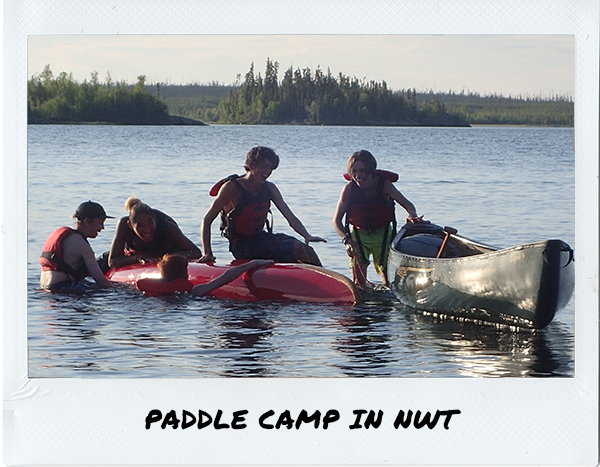 WHat to expect?
The aim of the camp is to provide campers with the confidence to plan and take part in trips, and to teach them what is required to be safe in the outdoors. Most importantly, we'll have a lot of fun!
Location: TBA. In 2017, our camp paddled from Tibbett Lake to Terry and Upper Terry Lakes.  This area had great pike fishing, awesome camping, lots of islands to explore, and warm water for swimming and water games. We are considering several other areas, but will need to wait until we see water levels in spring 2018 and the wind forecast for the week of the camp before a final decision is made on our route.
What is Included?
Canoes, paddles, lifejackets and all safety and rescue equipment related to paddling (campers may bring their own equipment if they wish)

Snacks during the day on July 2, and all meals during our over-night trip from July 3-6.

Shuttles

Jackpine Paddle Gear

Jackpine Paddle Stickers

5 days and 3 nights of instruction, coaching and supervision

Online photos and a camp video

Introduction to Lake Canoe Certification (Paddle Canada), Introduction to Canoe Tripping Certification (Paddle Canada)

Satellite tracking and messaging through a Garmin Inreach device so parents and guardians can track our progress online and send messages to campers

AN UNFORGETTABLE SUMMER CAMP EXPERIENCE!
Who, When and How Much?
All youth in grades 3-8.
PRICE: $595 + GST
DATES:
July 2 (8:30am-5:00pm), 3 – 6, 2018 (overnight trip!)