LAC LA MARTRE RIVER EXPEDITION
New for 2018, the Lac La Martre River Expedition offers an extended, un-supported backcountry river trip for high school students. This will be an unforgettable trip of a lifetime, following pristine northern rivers through Tlicho Territory.
On July 16, we'll load our canoes and gear and board a charter flight to the community of Whati. From there, we'll take a shuttle from the community to get around the bulk of a portage for beautiful Lac La Martre Falls. We'll carry our gear 900m down to the water and spend the next six days paddling down the Lac La Martre and Marion rivers to Marion Lake, joining the traditional Idaa Trail. The rivers run quickly with loads of fun Class I-II whitewater and swifts to practice and improve our whitewater paddling skills, and few portages! Once at Marion Lake we'll paddle south to the community of Behchoko where a shuttle will take us back to Yellowknife.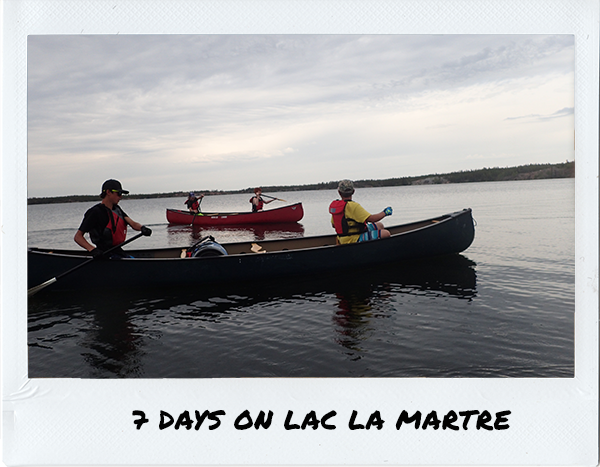 WHat to expect?
This will be a remote, wilderness trip with a chance to spot moose, black bears and several species of raptors. The rivers will allow ideal teaching sites to hone our river reading and whitewater paddling skills with a focus on teamwork, safety and fun! Our experienced instructors will foster leadership with campers taking the lead on camp set-up, food preparation and navigation.
We'll leave ample time at campsites for fishing, bush skills and playing around in unloaded boats at river features. We'll be showing our respect to the land throughout this trip and follow leave no trace principles, packing out everything we bring in and any litter we come across. 
What is Included?
Canoes, paddles, helmets, lifejackets and all safety and rescue equipment related to paddling (campers may bring their own equipment if they wish)

All meals and snacks during the expedition.

Shuttle from Behchoko to Yellowknife

Shuttle from Whati around Lac La Martre falls

Charter fees

Jackpine Paddle Gear

Jackpine Paddle Stickers

7 days and 6 nights of instruction, coaching and supervision

Online photos and a camp video

Introduction to Moving Water Canoe Certification (Paddle Canada), Introduction to Canoe Tripping Certification (Paddle Canada)

Satellite tracking and messaging through a Garmin Inreach device so parents and guardians can track our progress online and send messages to campers

AN UNFORGETTABLE EXPEDITION INTO NORTHERN WILDERNESS!
Who, When and How Much?
All youth in grades 9-12. No previous paddling experience is necessary, but would be an asset.
PRICE: $1,299 + GST
DATES:
July 16 – 22, 2018