North Arm Expedition, NWT
If you thought the Aurora was only a wintertime phenomenon, think again. At the tail end of the Northern summer, the skies begin to darken – and the "lights" burst into view. The North Arm of Great Slave Lake, home to thousands of remote islands and feisty pike offers a remote and unique paddling adventure for Aurora chasers.
North America's deepest lake is brimming with romance and mystery. That's especially true when "heaven's own lightshow" begins. Our sea kayak expedition on the North Arm is planned to take advantage of autumn Aurora season. As you tip your head back in awe to catch the glittering lights dancing across the sky, we'll show you the best of our spectacular Aurora. The North Arm of Great Slave Lake lies directly in the magnetic "Aurora Belt", which means it's one of the most reliable places on earth to spot the northern lights.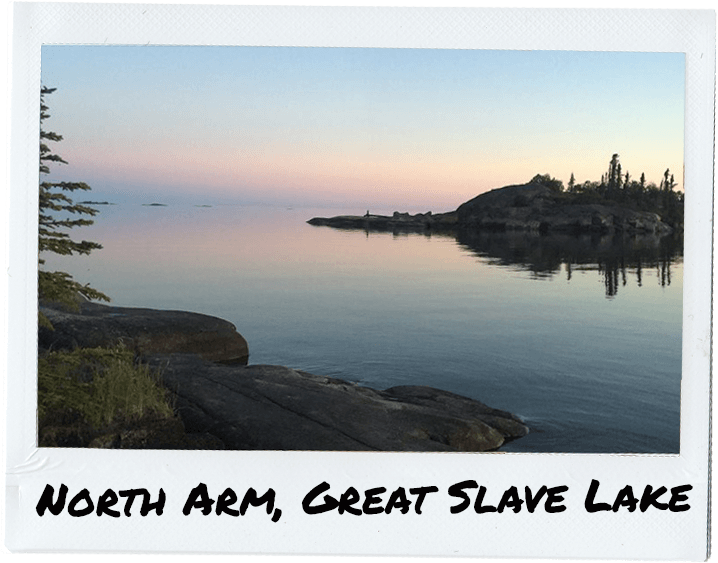 WHat to expect?
This sea kayak expedition will put the Aurora on display like no other tour. Unlike motorized tour operators who stick to the roads, we are able to paddle deep into remote wilderness far away from any artificial lights.
Culture, wildlife and landscape round out the other highlights of this expedition. You'll have a chance to disconnect from the digital world as you paddle through the wide-open water vistas of traditional Tłįchǫ Territory. Referred to by the Tłįchǫ people as Dinàgà Wek 'èhodì, the North Arm has powerful, historical, spiritual and cultural significance. It is a home; a place of legends, sharing, teaching and learning.
The numerous channels and bays of the North Arm are important habitat for breeding birds, and each year attract more than 100,000 northbound migrating waterbirds. You'll find a stunning variety of birds, such as bald eagles, gulls, terns, ducks, swans and geese. It's also home to moose, black bears, bison, wolves, and tons of world-class trophy pike.
From a paddler's perspective, the North Arm is a paradise of unexplored islands of glacier carved, Precambrian rock. It's a wilderness odyssey of narrow channels we'll navigate with expedition-grade sea kayaks. This is one great kayak trip!
What is Included?
Shuttle to put-in site near the community of Behchoko, NWT.

Experienced sea kayak guides

High-end Seaward fiberglass sea kayaks (single and tandem) and high quality paddles, spray-decks and other safety equipment

PFDs (you are free to bring your own)

Group gear for each expedition (tarp, kitchen equipment, utensils, water filtration, etc)

Gourmet meals three times a day plus snacks while on trip

First aid and kayak repair kits

Communication devices (satellite phone and Garmin Inreach)

Shuttles from the Yellowknife Airport to local accommodations, and back to the airport
WHAT IS NOT INCLUDED?
Accommodations in Yellowknife

Flights to Yellowknife

Drysuits and camping equipment (available for rent)

Meals before and after the expedition (typically breakfast on first day and dinner on the final day)
Who, When and How Much?
Skill Level: Grade II
Participants are not required to be proficient or highly-skilled paddlers, but should be familiar with the basics of the watercraft and paddled in a canoe or kayak at least once before. Previous experience camping in the back-country is highly recommended.
Cost:
$1,300 + GST
20% deposit due on booking
Dates:
7 Days – September 3-9, 2018