Whitewater Rescue
Working and playing on moving water safely means making smart decisions, becoming competent with the right gear, and understanding how to use the powerful force of moving water to your advantage. Our whitewater rescue course offers hands-on experience in a well-organized course on the Cameron and Yellowknife rivers.
In this course we'll have plenty of hands-on practice from experienced instructors in whitewater swimming, wading, throwing ropes, performing self-rescues, and rescuing others. We'll learn how to use speciality rope and mechanical advantage systems, and become comfortable working in whitewater.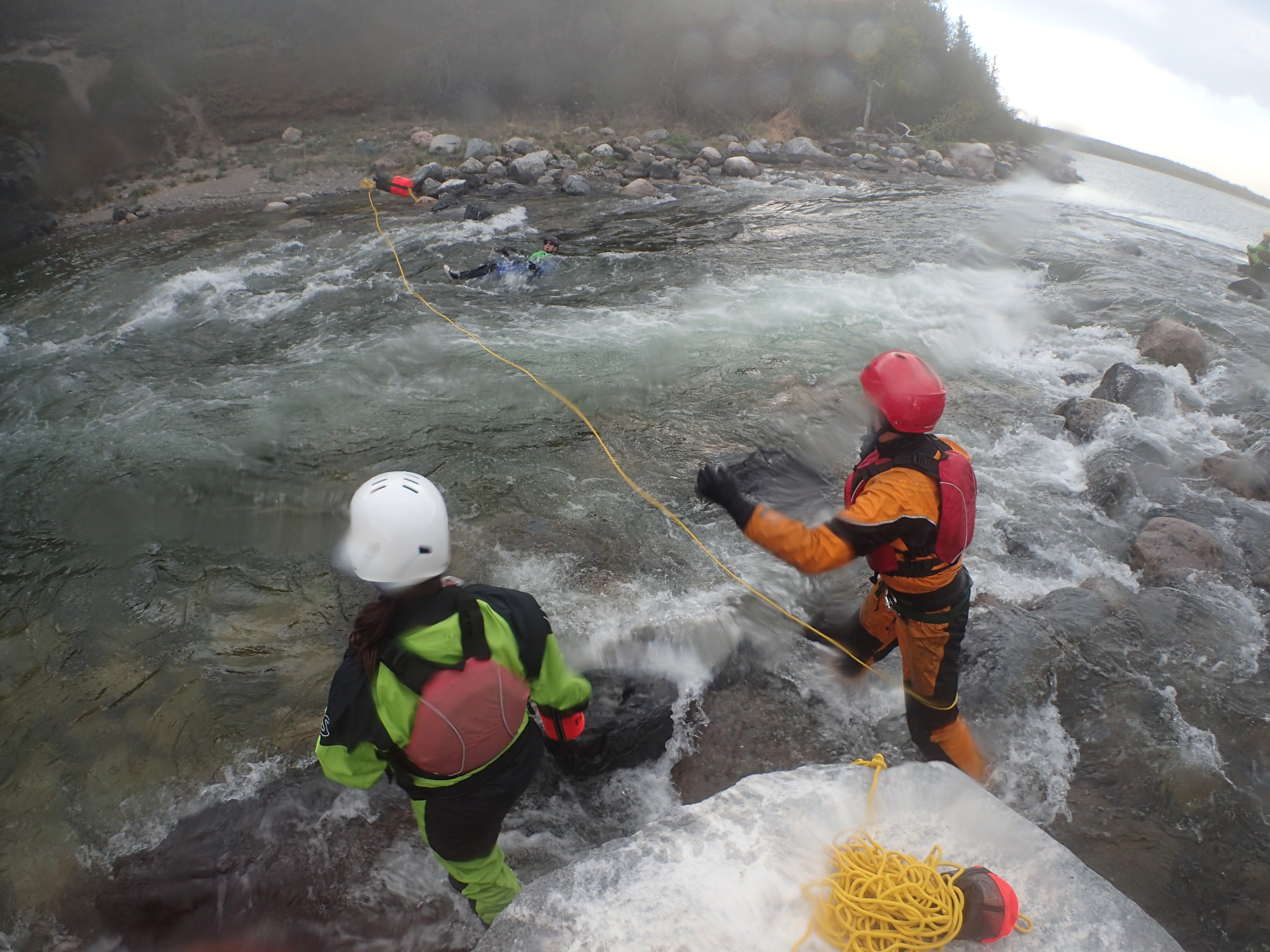 WHat to expect?
If you work or play on or near moving water, this course is for you. This course is intended for professionals and paddlers seeking to refine their skills, knowledge and techniques of rescue in moving water. The ability to swim is necessary. Because we'll be spending plenty of time in the water during early spring (for the highest flow at local rapids) thermal protection is recommended (preferably a drysuit).
*The two-day course (June 16-17, 2018) will allow us enough time to cover the entire program. The one-day course (June 3, 2018) will offered an abbreviated program and is not eligible for the Jack Pine Paddle Swiftwater Rescue Technician Certification
What's Included?
Rescue PFD, throw bags, helmets and rescue equipment including webbing and locking carabiners are provided. Drysuits are available for $45 CAD + GST per participant. 
Certification Received?
Swiftwater Rescue Technician (Jack Pine Paddle)
What is Covered?
River safety, signals, and hydrology

Swimming in moving water

Knots, anchors and mechanical advantage systems

Contact rescues and live-bait rescues

Throw ropes and foot entrapments

Shallow water crossings

Canoe and kayak pins

Emergency scene management and group rescues

Rescue scenarios
Who, When and How Much?
The pricing for this course is as follows:
$165 + GST  (one-day) OR $325 + GST  (two-day)
Participants must be able to swim 50 m with a lifejacket but no previous experience is required. The course dates are below:
Available Dates